Click on the question to expand and view the answer.
Is your wheelchair weatherproof?
YES!!!!!!! We designed our chairs so the battery is incased in metal, and ALL the electric cables have a rubber protective housing. We pay our joystick manufacturer extra to protect the joystick buttons from the weather as well. So you are good to go in all types of weather.
What are the overall dimensions of the regular-sized wheelchair?

What are the overall dimensions of the heavy-duty-sized wheelchair?

Is FOLD & GO approved by TSA for airplane travel?
Yes, just remain seated in your wheelchair while you go through TSA security. Ask the TSA agent for an individual screener. The TSA agent will wipe the wheelchair for chemicals and explosives. Tell them the battery is located in the side arm of the wheelchair to make screening easier. The wheelchair passes all TSA domestic and international travel guidelines.
Is your battery approved for airplane travel?
Your FOLD & GO battery is purposefully designed to meet all FAA and IATA regulations for domestic and international travel. You can drive your chair right down to the opening of the aircraft. Please watch our airport travel video to tips on traveling with your chair. This video contains actual footage of us using our chairs at the airport.
Is the footrest adjustable?
We have two models to choose from: regular and heavy-duty. On the regular chair the footrest is fixed and does not adjust or move out of the way. This features helps those with leg mobility limitations or people paralyzed in their lower extremities, so that their feet are always on the footrest.
On the heavy-duty model the footrest folds up against the front of the seat cushion (out of the way), this allows you to use a walker or a rollator to back yourself into the chair with the footrest out of the way.
We also have built an extended footrest which mounts to the HD model. It helps those people who cannot bend their knees a full 90 degrees. Click here is see the extended footrest.
What is the Warranty?
3-YEAR Warranty on Main Frame
1-YEAR Warranty on Rear Motor Wheels
1-YEAR Warranty on the Battery/Cables
1-YEAR Warranty on the Joystick and Control System (CPU).
90 DAY limited warranty on the wearing parts, such as the front rubber tires, and arm rest padding.
30 DAY limited warranty on soft goods, such as seat cushions and back rest padding.
If you need service just go to our website and contact us by phone, email, or LIVE chat. We will help you troubleshoot the problem and ship you the warranty parts.
Visit our Warranty Policy page for more information.
Can I TRY before I BUY?
Absolutely! Since we are in wheelchairs ourselves, as a company we decided not to sell our chairs to dealers, medical warehouses, retail stores or supply outlets.
The best way to TRY before you buy is with our Rental Program. We offer monthly rentals and provide free shipping to and from your door.
We also offer daily rentals in the Orlando area.
You can use the chair for a month or more to test it out. If you love the chair, you can purchase the rental or ship it back and purchase a brand-new chair.
What if I need some service done on my chair?
We work directly with our customers (which we consider to be part of the FOLD & GO Family) to help them get their chair repaired within 1-2 weeks, not months.
When you need a repair we FIRST schedule a "Skype Video Repair Call". During this call 99% of any issues can be resolved. After the call if you need a warranty part, we ship it direct to you.
Do your chairs come fully assembled?
Absolutely! We would NEVER ship you a chair you have to finish putting together. Our "abled-bodied" competitors do that to their customers, because they drop ship from China. Most of using a wheelchair cannot assemble it for ourselves.
Do you have a footrest extender?
What type of portable ramps work with well with your chairs?
Can the frame be strapped down on a bus?
Absolutely! Our Tubular Steel frame is durable to tie down on buses. You can clip the hooks on to any part of the frame. Our competitors Aluminum frames are not strong enough to handle tie down straps on buses. See the picture below for proof.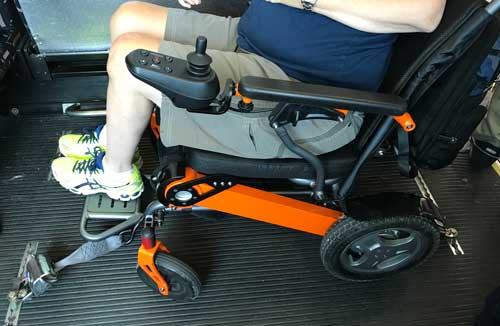 Why doesn't a magnet stick to the tubular steel frame of my FOLD & GO WHEELCHAIR?
We use Tubular Steel, with a mixture of Chromium, and Nickel.
We add Chromium which creates a protective layer that prevents rusting and makes the metal resistant to the weather, because our chairs our weatherproof.
We add Nickel to the Tubular Steel compound to help strengthen the protective qualities of the Chromium. Generally referred to as a 300 series. When Tubular Steel that contains Nickel is not magnetic at all. The reason is that the presence of the Nickel alters the physical structure of the Tubular Steel and removes or inhibits any magnetic qualities.
What is the BEST way to get used to driving the FOLD & GO WHEELCHAIRS®?
Please watch our Driving Tip Videos done by our CEO who uses her chair everyday. When she finds herself in tricky situations she films the condition and provides tips on how to drive your chair.
We recommend starting with the wheelchair in the lowest speed. This will allow you to get used to using the joystick to control your wheelchair. Keep in mind the FOLD-N-GO is very lightweight (ONLY 46 to 55 LBS in overall weight), so the joystick responds quickly to movement in any direction. Most power wheelchairs (the big ones that cost more than $10,000) have sluggish joystick response because their overall weight of 500+ LBS.
Once you are used to driving at the lower speeds, increase the speed one level at a time until you work up to level 5 (which is 4 MPH). In a matter of days you will be driving around the house at full speed. Just don't start chasing your cat or dog around the house!!
Is the FOLD & GO made for indoor and outdoor use?
Every FOLD-N-GO comes with one battery which gives you a travel range of 12 miles per charge. Each wheelchair can hold up to two batteries.
Will it go over grass?
Yes, if the grass ground is firm and not muddy.
Does your seat recline?
Sorry, no it does not. Why would you want your chair to recline? We are all in wheelchairs too here, and were talking about that question. I want my wheelchair to be supportive to my back, and keep me upright so I can drive my chair effectively. Do you think it be hard to stay seated to drive the chair if you were leaning back?
Will It Go in Sand?
No. Most wheelchairs do not perform in sand.
Will It Go through water?
Yes! All the electrical components are cover in weatherproof housing. We have tested our chairs to the max in our personal life. We drive through puddles, and out into the rain. Just because we are in wheelchairs does not mean we have to sit and wait for the rain to stop before we can go outside. Able bodied people run in the rain all the time, now it's our turn.
What is the safe storage temperature range for the batteries?
Fahrenheit: 0° to 140°
Celsius: -20° to 60°
When the chair is not in use does the battery go dead?
No! Our batteries do not draw when the chair is off. If you use your chair and then store it for 1 day, or 1 week, or 1 month, or 1 year. When you go to use the chair again, the battery level will be in the exact same spot as when you last drove the chair.
Do you sell your accessories to your competitor's wheelchairs?
NO! We have created a company and list of products for the Disabled community BY THE Disabled Community. We do everything with excellence because we know what life is like in a wheelchair. We are in wheelchairs too!
Our competitors are "Able-Bodied" people who have never spent more than 5 minutes in a wheelchair. So WHY would we offer our innovatively designed accessories to their poorly designed wheelchairs? We have created a lifestyle that is better for all of us in wheelchairs. When you purchase a FOLD & GO you get EVERYTHING you need to make life easier. That is just one of the many advantages buying from us.
We will NEVER sell our amazing accessories to our competitor's chairs. We are at a huge advantage being in wheelchairs ourselves! We know what works and what doesn't.
When is it recommended to charge battery or batteries?
Our chairs come with Lithium-ion batteries like a cell phone, computer or tablet. We recommend only charging when the batteries get low. The lights on the joystick will indicate when it is low. Our batteries have a life cycle of 1,000 charges. If charged every day, then in less than 3 years you will be through 1,000 charges. If charged only when them get low, then the battery life can double that to 6-7 years.
How many batteries does each chair come with?
The regular-sized FOLD-N-GO comes with one battery which gives you a travel range of 12 miles per charge. The heavy-duty-sized wheelchair comes with two batteries, which gives you a travel range of 16 miles per charge.
Can I charge my wheelchair in other countries?
Yes! Our battery charger has an Input: ~100-240V 50/60Hz 65W — This means the FOLD & GO WHEELCHAIR is compatible with multiple voltages. Our chairs can be brought just about anywhere in the world, and any difference in voltage is basically irrelevant. The wheelchair (or charger) adjusts itself to whatever voltage it receives. The only issue is whether or not the plug can physically interface with the socket. The appropriate travel plug adapter is all that's needed.
U.S./Canada are 110-120 Volts
Europe/Worldwide are 220-240 Volts
How much does the extra battery weigh?
Each FOLD & GO WHEELCHAIRS® comes with one battery. If you want to double the travel range on your chair, you may purchase an additional battery. The additional battery weighs 2-3 LBS depending on the model.
Do you sell on Amazon?
No! We choose NOT to sell on Amazon for several reasons:
Amazon does not allow us to contact buyers directly.
We cannot email buyers with their user manual or a link to the how-to videos on our website.
Amazon will delete any email attachments with links to companies outside Amazon's website.
Amazon charges us 15-20% to sell our chairs on their website.
We prefer to give our customers discounted pricing rather than increasing the purchase price in order to sell on Amazon.
How does your chair compare with Air Hawk, Move Lite, BDPD, Karmen, Green Transport?
All these companies are overseas in China, Malaysia, Taiwan and make a knock off version of our USA assembled wheelchair. These chairs are made out of Aluminum, are not waterproof, and are not made or designed by us.
We hold 10 international patents on our design. If you need repairs, you will need to pay out of pocket for a local dealer to repair the wheelchair or try to call Asia. These companies also sell on Amazon, medical warehouses, supply outlets & eBay!
DO NOT BE FOOLED…these replicas are not a FOLD & GO WHEELCHAIR®!
Do you GIVE BACK to the world we live in?
We certainly do try. This summer the FOLD-N-GO Wheelchairs team lost two close friends to colon cancer. In their memory, we have decided to give back to those battling this terrible disease. For EVERY blue wheelchair we sell, we will make a donation to colon cancer research in honor of our two friends, Tim and Lori. We miss you guys!!
Can I rent to own?
At any point during the monthly rental you can call us and purchase the chair out right. Or after 8 months of renting it, the chair is yours.
Do you sell used or refurbished chairs?
Do you have financing?
We do not offer financing because we can bill your insurance directly.
How can I stop someone from stealing my FOLD & GO?
Beside removing the joystick, there is no way to secure the chair because the chair only weighs 46-55 lbs. If someone wants to steal it, they can just pick it up and carry it away.
We suggest adding a personal articles policy for your chair on to your Homeowners insurance. For about $4/month your homeowners policy will cover the chair if it is stolen. So it can be replaced easily.